Top 10 Web Designers & Freelance PHP Developers in India
We are a among the Top 10 web designers & freelance PHP developers in India provides web design related services in PHP, MySQL, WordPress, HTML5, CSS3, Bootstrap, Codeigniter, Ecommerce across the globe since 2008. Our team also design Photoshop layout design, Banner design, Logo design, Brochure design, Website maintenance, Linux cPanel Web Hosting, SEO etc. Read our reviews.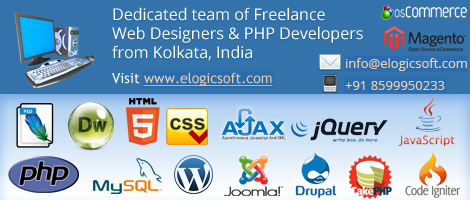 We can deliver the best quality error free website developed at reasonable price and stipulated time frame. Elogicsoft never compromise on quality and we do revision until our clients get 100% satisfaction. And we always try our best to meet the said deadline. Apart from this we give 90 days (after completion of the said project) FREE support to our clients. During this FREE support phase we take clients calls for small design and textual changes and usually we do it within next 4-8 hours of receiving the change request. Elogicsoft.com strongly believes in productivity, quality and quality assurance. These qualities differs us from other web design companies. We believe in long-term relationship with our clients. Competitive prices combined with better result make us the best in the business. We are dedicated to making sure your website is a success for the long term, and will always be a phone call away. Read our customer's review.
Our Website design experts translate your thoughts and ideas into striking and unique visual concepts that will astound your visitors. We know that website design is the visual application of your thinking and doing this effectively while still incorporating solid online marketing principles. After all a perfect web design that not only enhance it looks but also your visitor for greater content usability. And we can assure you that your site visitors will enjoy an informative, easy to navigate, user-friendly and interactive experience.
Besides web design and web development our dedicated SEO team will help you in search engine optimization and thus we will involve in making your Site popular in Google, Yahoo, Microsoft€™s Bing and other popular search engines.
We also do link building and directory submission to make your business popular. Directory submissions are a good way to build link popularity which will help your Web site rank higher in the search engines.
Freelance Web Design & Development Services:
Database driven website with Administrative Control panel and e-commerce application in both framework system and custom coding.
Content Management System (CMS) with custom coding and a built in Administrative control panel. We also use WordPress as a CMS platform.
Social networking site in Custom coding and/or by using WordPress MU.
Business web site with dynamic content and fully featured admin driven site.
Implement online payment process by using Credit card.
Forum application.
WordPress Blogs.
Solutions to meet your requirement.
Elogicsoft.com Taglines